The Grip Pack Tensioner Already Dominating Markets
The Grip Pack tensioner is Signode's popular tool that is battery operated and complements Grip Pack 114 Sealer. In recent times, many industries have begun to switch over to battery operated tools as they are faster and more efficient than manual or pneumatically operated tools.
Battery operated tools like the Grip Pack Tensioner are very cost effective and also increases productivity. One great advantage of this tool is that it is light in weight and can be carried about the work place without any hassle. There is no hindrance of air lines running about the floors and tiring the operators. Due to these reasons, operators like this tool.
The Grip Pack 114 Tensioner is a pusher style tool, which uses its nose to push the seals and then pull tension. However, it uses the same amount of tension that is used in pneumatic tools. The only difference is that it eliminates the presence of air lines that are found in pneumatic tools.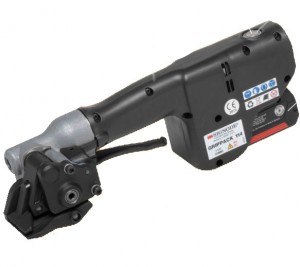 The Grip Pack tensioner tool runs on an 18 volt Bosch battery. It pulls about 1,500 pounds of tension and those of the industry who use the pneumatic tools are surprised that a tool as light as this can pull so much tension. This tensioner can be used along with the Grip Pack 114 Sealer.
It is also becoming a known fact that battery operated tools are far more convenient than pneumatic tools. Some of the battery operated tools are less in weight than manual tools. Due to the lithium-ion batteries, a maximum amount of tension can be pulled by just squeezing the handle. Just one charge of the battery can complete about 120 strapping cycles.
Specifications
Strapping: Magnus or Apex Plus Steel strapping
Strapping size: ¾" -1-1/4"x 0.025" to 0.031(19mm – 33mm x 0.64mm- 0.80mm)
Tension: adjustable from 800 lbs to 1500 lbs (3600 N to 6670N)
Weight: 3.8 kgs (8.5 pounds)
The tool uses the Magnus or Apex Plus steel strapping. Due to the battery in the tool, the strapping is faster and the battery also gets recharged quickly in about 15 to 20 minutes. As the tool is ergonomically designed, operator fatigue is eliminated and a large number of steel strapping operations are possible for any type of application.
This tool has become popular in a very short time due to the battery operation.
________________________________________________________________________
Fromm A483- Great Combo Tool for Steel Strapping
The Fromm A483 is a pneumatic steel strapping pusher tool. This is much heavier and larger than its counterpart the A482. Both are used in the packaging industry as well as the lumber and other metal industries. This tool is the best for steel strapping. Though many are switching over to poly strapping, there are steel strapping loyalists who have not switched over to poly strapping as they consider steel to be the strongest.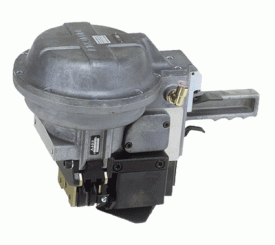 The A483 is great for applications with 1¼" steel straps. It has a pneumatically raised feed wheel that is good for introducing heavy steel straps. This tool is ideal for strapping steel coils, tubes, and rods and is fitted with suspension brackets. These brackets come with the tool and the A483 is considered the best to work under continuous shift conditions.
The strapping is fed into the tool where the feed wheel is automatic and it eliminates additional work by an operator. A483 is very reliable, and even though it is very heavy, this tool is very good for continuous operation. A similar tool from Fromm that is equally mobile is the A480 and it is a very light weight tool. The difference between these two tools is only their weight and the rest of the functions are the same. The A480 weighs half of A483.
Presently, in the packaging industry, customers are trying to switch over to battery operated tools that are faster and more efficient. They are also light weight. For example the Grippack 114 sealer and Grippack 114 tensioner are great steel strapping options and better than pneumatic tools. They work with 18V Bosch batteries which are made of lithium-ion and can apply straps for about 300 cycles per charge. The batteries get charged very quickly. Since these tools are light weight and battery operated, workers find it easy to carry the tools about without getting tired. In the case of pneumatic tools like A483, the tool has to be stationary while the work gets done. Also there are a lot of air lines on the work room floor which hinders the operator.
Features of A483
High tensile (Ultra flex)
Push type seals
Weighs 18kg/ 39.7 pounds
Allstrap recommends A483 to be a very reliable and durable tool, though it is very heavy. It is generally available rebuilt. For enquiries about A483 call Allstrap's customer service department. Allstrap also repairs all Fromm tools.
_________________________________________________________________________
Battery tools for steel strapping are brand new, and long overdue!  There are two manufactures.
Signode's Grip Pack Steel strapping battery Sealer for 1.25"
and
Golden Bear's S114 steel strapping battery sealer for 1.25".
Check out this site for more steel strapping battery tools www.heavydutystrap.com